art STUDIO

3 137 is a Greek artists' space who is running a series of events under the title What do you do for a living . I was invited to create a speakeasy bar for a night. My bar was named art STUDIO (STUDIO is the sign outside Athenian brothels) and the password to get in was "Don't Quit Your Day Job". What I did for the event was an immediate representation of my everyday life in London, creating a happening where multitasking (and failing) was the main idea. I was the bar woman, the DJ, the exhibiting artist, and I had created a Menu/price list selling drinks, art performances, socialising and services of sexual nature.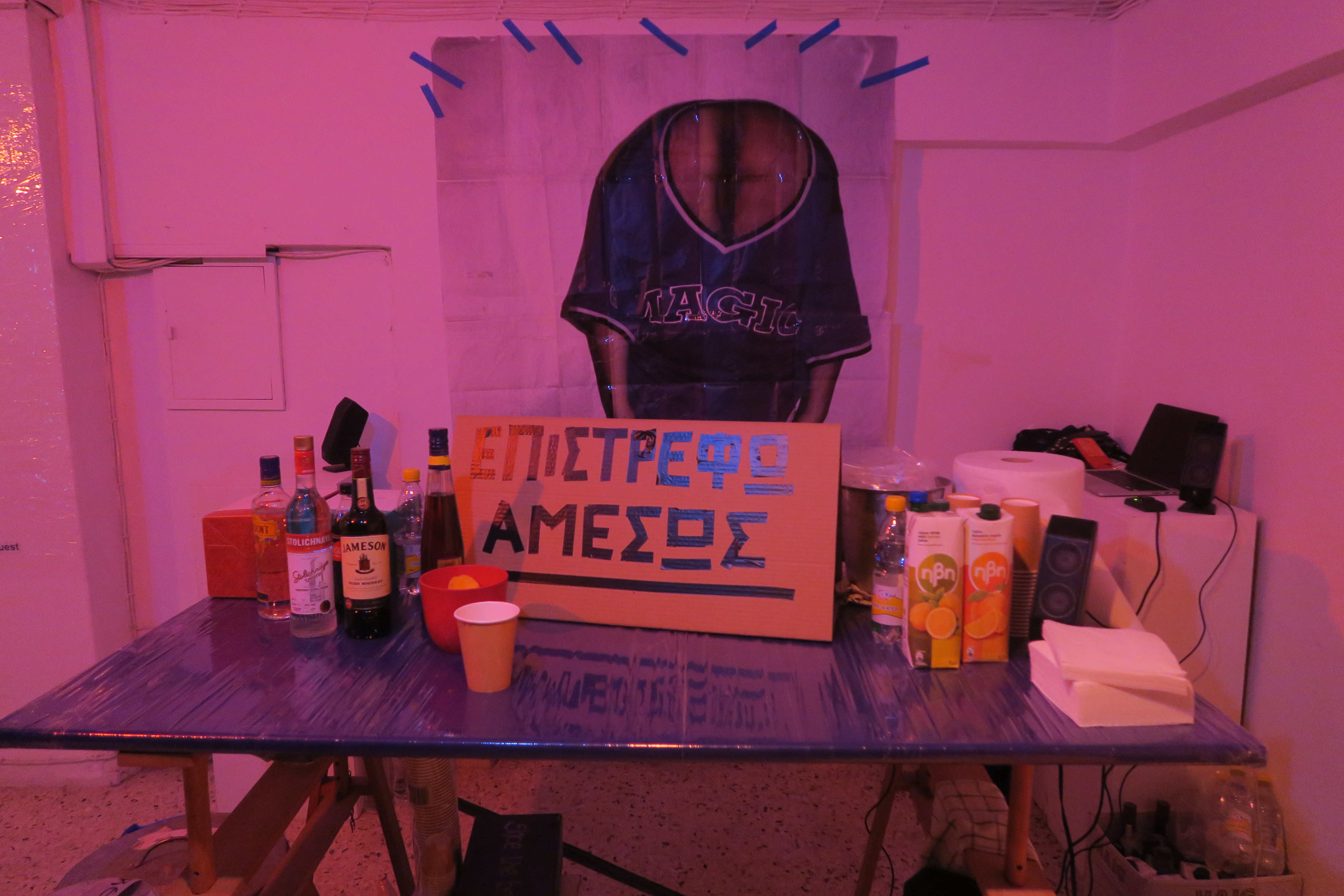 Do You Hit Girls?
performance
In Do You Hit Girls? I invited a male opponent to participate in a Kick-Boxing fighting performance. It was an aggressive fight, between two people of similar weight and similar training experience, in which I tried to explore the strengths and the limits of the/my female body. I wanted to raise questions relating to consent, boundaries and sex segregation in sports, challenging the social taboo of violence against women by adding the factors of consent, sport's rules, and a predetermined time and space for it to happen. It took place at Tempting Failure festival of performance in 2018.

The Fantasy of Heterosexual Male Submission Does Not Include Critical Race or Gender Theory

Mixed Media Installation and Mixed Wrestling Performance
Very Open Studio, is a happening made for the Open Studios weekend, at Euroart Studios, a complex housing naive artists, with a soft spot for realistic portraits, craftsmen and decorative artists. During the Open Studios, I blocked my studio door, sitting behind a desk, informing the visitors that in order to get in, they had to submit an application outlining their intentions, a short bio and highlight their contribution to my studio. After assessing their application I rejected everyone but a few friends, stamping
WE REGRET TO INFORM YOU

and denying entrance.